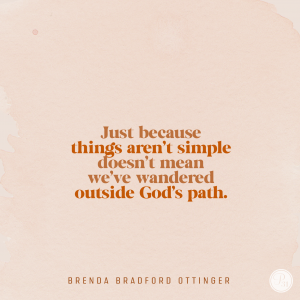 As the sun whispers its rise in the window behind me, I lay in bed praying for strength to start another day. All too many mornings lately seem to inherit yesterday's tired spirit.
Begging the energy to put on my big girl slippers, I make the bed, brush my teeth, and wake my son as I head downstairs (all while chastising my taste buds for not liking coffee).
Grabbing my glass of decaf water, I shuffle toward the humble desk nestled in my kitchen's corner.
Meanwhile, my closed computer taunts; a deadline looms, and my brain is playing hide-and-seek with words. Not wanting to be upstaged, my psyche joins in, whispering notions of inadequacy into my barely begun day.
Dear God, is it supposed to be this hard? Do others feel this tension between place and purpose, too? I'm so tired, yet I know You've given me these callings, and Lord, more than anything, I want to be found faithful by You. Please order this day for Yourself, I pray.
Tugging the ribbon that marks my spot in the ancient storyline I've been lost in for days, I pull my Bible near. All life's noise knows it must stand in line behind God's Word.
And there, fresh from the pages of antiquity, God met my sleepy spirit, speaking a new measure of perspective into my modern-day understanding.     …

Hey friend, I hope you'll join the discussion over at
Proverbs 31 Ministries for the rest of the story of how the Lord
meets us in our Living-on-a-prayer moments as only He can.